Agries Melisses 2019-2022
A daily period drama of 1957 that takes place in the area of Thessalia. The series was first launched in September 2019 it has already broadcast 276 episodes . It is the most successful tv series in Greece with over 2 million viewers. For the production needs a village scenery was constructed in a backlot of 5.000 square meters and 3 sound stages.
1821 – 2021
A documentary series that consists of 6 episodes for the 200 year celebration of the Greek independence. Each episode presents the BIOGRAPHY of the personalities that stood out in the Greek revolution.
Sasmos 2021-2022
The story of the series is around a couple that is in love and their families. Their families are in a conflict due to an old Cretan vendetta. Their Love will fight against the tradition and It will try to bring the so called "SASMOS". That means reconciliation. The shootings take place between Athens, Crete and Munich.
Chaireta mou ton Platano 2020-2022
A daily tv series in ERT public broadcaster it consists of 1-160 episodes for the first season based on the format no matter what Shootings takes place in various places such as in the village of Κalavryta in the Peloponnese
More Productions
Scripted formats
Ela stin thesi mou
I Epistrofi
Peta tin Friteza
Lakis the Sweet Guy
Kai oi Pantremenoi echoun Psichi
Tis Ellados ta Paidia
To Trito Stefani
Non scripted formats
JUST THE 2 OF US
WEAKEST LINK
WHO ONES TO BE A MILLIONAIRE
BOOM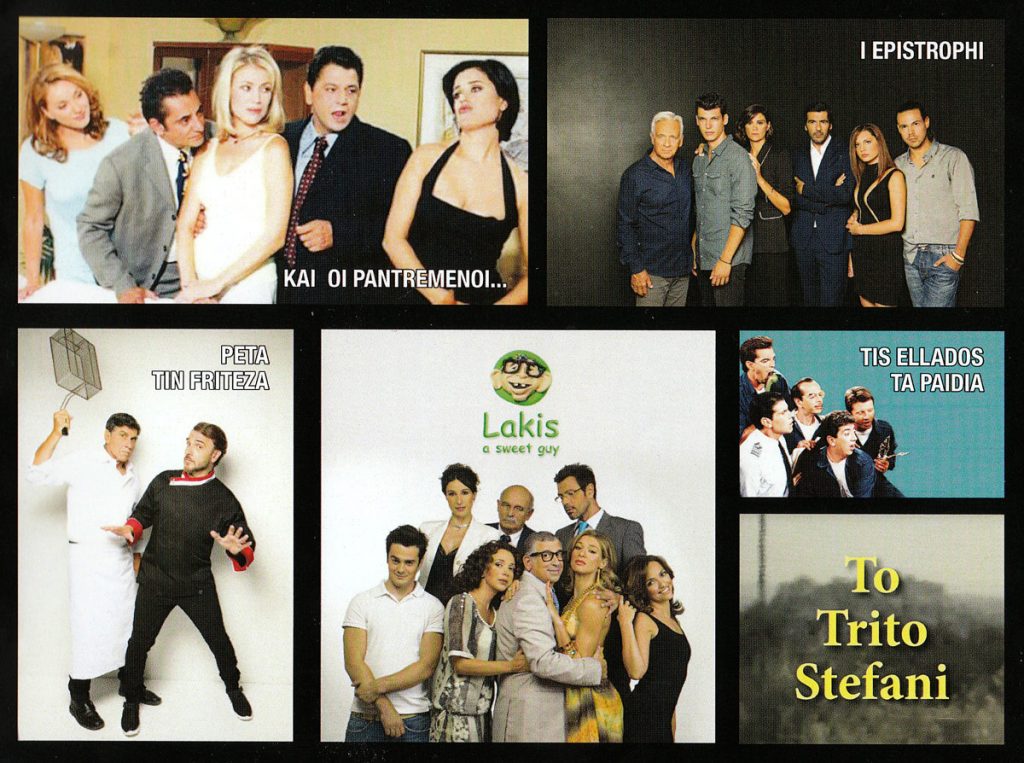 The company has a library of over 200 movies
Movies
THE JACKALS
TURNING POINT
VASIKA KALISPERA SAS
KAMIKAZI AGAPI MOU
TROHONOMOS VARVARA
ROZ GATOS